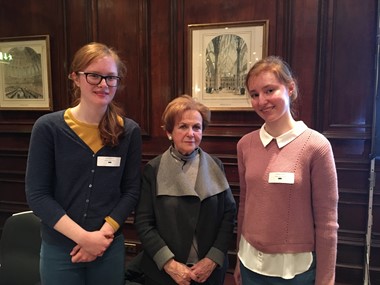 Lessons from Auschwitz
Bridgnorth Sixth Form students joined students from schools across the Midlands on an educational visit to the Auschwitz-Birkenau concentration camp in Poland in March.
Two students from Bridgnorth Sixth Form joined 200 students from schools across the northwest Midlands on an educational visit to the Auschwitz-Birkenau concentration camp in Poland this March as part of the Holocaust Educational Trust's Lessons from Auschwitz Programme.
Year 12 students Mia Clement and Eleanor Caine, attended a seminar at the Hilton Metropolis Hotel in Birmingham to prepare for the emotionally difficult visit to three Holocaust sites at Oświęcim, Auschwitz I concentration camp and Auschwitz-II Birkenau.
Auschwitz-Birkenau is the biggest and most notorious of the concentration camps used by the Nazis during the Holocaust. It is estimated that more than 1.1 million prisoners from all over Nazi-occupied Europe were killed by the brutal Nazi regime at Auschwitz between 1940 and 1945.
"It is hard to find the words to describe how it feels to tour a place of such historical significance. Knowing that hundreds and thousands of innocent people died there, either from disease, starvation or extermination, is harrowing and very humbling," said Mia of her visit to the site. "If a one minute silence were to be held for every individual Holocaust victim, the world would remain silent for 11 and a half years."
During the seminar in Birmingham the students were introduced to Mala Tribich MBE, an Auschwitz survivor who lost her close family to the Holocaust. After the camp was liberated by the British forces in 1945, she discovered her brother Ben had survived and was living in England. She moved to the country in 1947 to be reunited with her brother, and, not long after, settled down to family life with her new husband, Maurice. She gave an inspirational talk about her childhood experiences of war and beyond. In her online biography she states, "I feel it is my duty to speak for all those who cannot speak for themselves, and tell what happened during those dark days in Europe. By speaking out, it is my greatest hope that something positive will be handed to future generations."
Mala's speech has had a lasting impact on the students. Eleanor said, "The impact of the visit will stay with me permanently. I now feel differently and much more strongly about the Holocaust. It has deepened my understanding incomparably and I'm now inspired to make a difference and share the message with those around me. I feel that as long as people are open-minded and prepared to listen, the impact of the Lessons from Auschwitz project can be transformative in future."
Mia also said, "Her story was profoundly moving and made each and every one of us reconsider our perspectives on life. We have so much to be thankful for. Mala's speech resonated with me. Whilst she suffered traumatic experiences beyond our comprehension, she was able to tell her story with tolerance and hardly any hint of anger, hatred or revenge. Her moral message is something I'll never forget."
Following their visit to Auschwitz-Birkenau, Mia and Eleanor are now preparing to hold an assembly for Year 9 and 10 students at Oldbury Wells School. They will reflect on their journey and share what they learnt to help increase knowledge and understanding of the Holocaust among students and highlight what can happen if racism and prejudice prevail in society.
Pictured are Year 12 students Mia Clement and Eleanor Caine with Auschwitz survivor, Mala Tribich MBE.
Date Published: 10 Apr 2019